Less than one week left to register for the Carolina Fitness Challenge
taking place at CrossFit Durham on Saturday, December 12th! 
Registration deadline: Nov. 30th
The event will be sponsored by Forged Clothing and Christian's Fitness Factory! 
Thanksgiving Weekend Schedule
Thursday — 10am WOD
Friday — 10am Open Gym, 11am WOD
Saturday — Regular Schedule
Sunday — Regular Schedule
WOD for Thanksgiving Day — 10am
Team "Murph"
For Time:
Run 1 Mile
100 Pullups
200 Pushups
300 Air Squats
Run 1 Mile
Post Team Time to Comments   
Each athlete runs 1-mile.  Then in teams of 2 complete the pullups, pushups, and air squats.  Only one team member may be doing work at a time.  You can partition as needed.  Both team members then run 1-mile to complete the workout.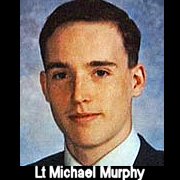 In memory of Navy Lieutenant Michael Murphy, 29, of Patchogue, N.Y., who was killed in Afghanistan June 28th, 2005.  This workout was one of Mike's favorites and he'd named it 'Body Armor.' From here on it will be referred to as 'Murph' in honor of the focused warrior and great American who wanted nothing more in life than to serve this great country and the beautiful people who make it what it is.
Happy Thanksgiving from CrossFit Durham!