New T-Shirts Available!  Click

here

!
On Sunday, July 19th, we will host Coach Chris Wilkes of CrossFit Chesapeake for an OLYMPIC WEIGHTLFITING SEMINAR!  Space is VERY limited so sign up today! More info here!
Sign up here for Foundations Classes
Starting June 23rd  — Tues, Thurs @ 7pm (meets 4 times)
Starting July 7th  — Tues, Thurs @ 7pm (meets 4 times)
Saturday 090613
"Nate"
AMRAP in 20 minutes:
2 Muscle Ups (Sub is 4 pullups and 4 ring dips per MU)
4 HSPU's
8 KB Swings 
Post Time to Comments.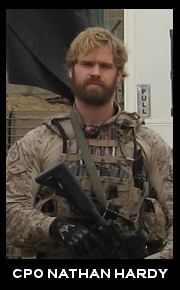 In honor of Chief Petty Officer Nate Hardy, who was killed Sunday February 4, 2008 during combat operations in Iraq. Nate is survived by his wife, Mindi, and his infant son Parker.

Today's Fitness Article Links
Competitive Spirit
Can You Be Fat, But Fit? 
Stubborn Fat Loss
Lots of Happy Birthdays this week!