Less than three weeks left to register for the Carolina Fitness Challenge
taking place at CrossFit Durham on Saturday, December 12th! 
Open to ALL Fitness Levels!  Sign up to join the fun!
Registration deadline: Nov. 30th
The event will be sponsored by Forged Clothing! 
WOD for Wednesday 111109 — Today's Schedule — Click Here
"Badger"
3 Rounds For Time:
30 Squat Cleans (95/65)
30 Pullups 
Run 800m
Post Time to Comments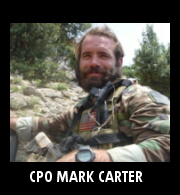 In honor of Navy Chief Petty Officer, Mark Carter, 27, of Virginia Beach, who was killed in Iraq 11 December 2007.  Learn more about "Badger" here.
We salute all of America's veterans and thank them for the their selfless service!